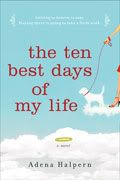 Title: The Ten Best Days of My Life
Author: Adena Halpern
Publication: Plume (Penguin)
Release Date: May 2008
Source: www.curledup.com
Rating:

Alexandra Dorenfield has died and gone to heaven. Literally. Along with her dog. Her little dog Peach's had a bowel obstruction that just had to be relieved that instant. Seconds after Peaches found her relief, her little life was over and she was in doggie heaven. Along with Alexandra. In people heaven.
Both hit by a MINI Cooper while out for a morning stroll. But as luck would have it, Alex has found heaven on…well heaven. Not only has she been reunited with her grandparents, she has a walk in closet full of the latest fashion, she has the perfect body (no cellulite), and to add the cherry on top, she has met the love of her…ah death. Adam Steele is stunningly gorgeous and might I add they just happen to have the best sex ever. You see, Adam had a heart attack at the gym (at the young age of 33. Unknown heart problem) the same morning Alex was out on a stroll with Peaches. And the best part? They just happen to live right next to each other up on the seventh plane of heaven.
And she is not alone up there in heaven. Her grandparents greeted her on arrival along with her uncle Morris. Grandmom in her little yellow sports car drove Alex to the house that she has been dreaming that is her's all her life because in essence you get whatever you want up there in the clouds, Grandpop is in his version of heaven watching ball games all day, and Uncle Morris is in his version and can smoke his cigars without any threat to his health. Because you know what? He's already dead. But eventually Alex remembers who she has left behind on earth, but it's not as easy as you think to invade your parent's dreams and tell them your fine.

The Ten Best Days of My Life is played out like a novel length obituary that is highly entertaining and a laugh out loud read (unlike real obituaries). Who knew heaven could be so much fun and so much hard work. Hard work? For Alex anyway. Alex is on the seventh plane of heaven right now. But in order for her to stay on that plane and not get demoted to the fourth plane where she would have to wear last years fashion but worse yet, Adam would be gone, she is going to have to write an essay. The essay is entitled, The Ten Best Days of My Life. That's right. Alex has to pick just ten days out of her 29 years on earth and deem them the best. It sounds easy, but it is anything but as Alex goes on a soul searching mission to find out what in life is really important.
This book is on my top ten books of all time, I was reminded of this book when reading Straight To Hell by Michelle Scott. Both books deal with the after life, but my chosen book, Ten Best Days of My Life by Adena Halpern I think is a lot funnier. While both are light hearted reads Ten Best Days I think is really heart felt and spoke to me in a different way than Straight To Hell did.
I can't recall when exactly in the past that I read this, but I can recall that it was before my mother had passed away; before my mother I had never experienced death personally before. My Grandmother had died of course but I had not known her at all so that didn't count. Anyway, this book helped a lot after my mother's passing; it got me to thinking that death wasn't so horrible after all and that there really was a personal heaven for everyone. In short, my mother is happy swimming laps in a pool wherever she is.
I hope when and if you guys read this book, it will make your heart lighter thinkng your loved ones are and will be more than happy crossing over. Unless they have to write an essay of the ten best days of their lives on earth like Alexandra Dorenfield had to. Notice how long the review is. That meant I loved it.
The Ten Best Days of My life leaves you wondering what heaven really is all about. Do you really get everything you want? Probably not. But it would be nice, wouldn't it? The romance between Alex and Adam is..well heavenly, what all girls dream of when they think of their soulmate.
Adena Halpern is an Uma Thurman look a like (I think anyway) who has written Notes from a Single Girl's Closet and Target Underwear and a Vera Wang Gown. Halpern has done it again with her latest, it is definitely a keeper. (I wrote latest back when it was the latest from her in 2008)
Buy it below from Amazon!