It is time once again for another fabulous blog hop. This hop is co hosted by none other than the gals over at
Under The Covers
and Laurie from
Bona Fide Reflections
. I'm just so happy to be participating in this one since it gets me a chance to meet fellow bloggers that I have not met before like Laurie and the over 120 other different bloggers who are participating.
The Lovestruck Giveaway Hop is weeklong guys!! So yep, you have plenty of time to hop around 120 times or more to the different particpating blogs which you can find if you click on the banner below.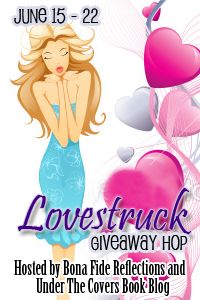 The prize...or should I say prize(s) that I will be giving one lucky winner either US or International will be.....
What happens in Vegas…can lead to romance.
It took one wild night for
Sergeant Jeremy Addison to realize that Vegas?
Was a bad idea.Bloody. Bruised. Dehydrated.
Abandoned in the desert, and left to stagger down the road.
The only way this leave could get worse was if his savior was his ex-best friend's sister…and the girl he'd loved since childhood.
The last person Erica expected to find on the roadside was her high school crush.
She hadn't seen Jeremy in seven years—ever since the night he said he loved her, and she ran away.
Losing him then had been a mistake,
but wanting him now could be catastrophic if he discovered the secret
that chased every other man from her life.
But with a tall, tattooed Marine determined to prove
he's always been faithful, can Erica resist his advances…or will she surrender ground and give love a try?
and
Broken on the inside

Megan Hunter has worked hard to get back on her feet, leaving the nightmare of her teenage years behind. The last thing she wants or needs in her life is a man. But when she is attacked by someone from her past, a scarred stranger intervenes, saving her life and that of her little girl. Looks can be deceiving, for despite the man's rough appearance, she feels safe with him. And for the first time in her life, she knows the stirrings of desire.

Broken on the outside

Nathaniel West paid a high price serving with the Marines in Afghanistan. He returned to his family's ranch in the Colorado mountains to heal—and be alone. Disfigured as he is, he has put all thoughts of sex and romance aside. But something about Megan brings him back to life, heats his blood, makes him feel like a man again. As danger pursues her, and the truth about her past is revealed, he vows to protect her—and to heal her wounded spirit.

But confronting the past is never easy—especially when it's carrying a gun. Megan will have to learn to trust Nate to survive and to claim a passion that is much more than … Skin Deep.
I can say so much about my two choices.....why I love them and how much I love the covers, but I know there are so many other blog stops you have to make in only seven days time that I'll just give you the rafflecopter form to enter. GOOD Luck!
a Rafflecopter giveaway